Happy 2010! I didn't take any pictures of New Years here. Sorry! :( What kind of blogger have I become!?
We did have a fun New Years Eve here. This is the first year that our whole family has stayed up until the new year so that was exciting. We made homemade pizzas and played Blokus together. I think it is now our favorite family game. After that we watched a Star Wars movie until around 11:30 pm. I should really say that everyone except me watched Star Wars because I only watched a small part of it. I know it is an immensely popular movie but it seems to me that if they got rid of about half of the fighting scenes they could tell the story in about 1/4 of the time. But that's just me and the male part of this household really enjoyed it. After that we caught the 15 minutes before midnight of the Dick Clark New Years. I didn't realize he was still on so I was really thrilled to see him as I always watched him on New Years as a child. When the ball dropped at midnight we decided to ring in the new year with a good tickle. It was lots of fun!
We started the New Year yesterday morning with cinnamon rolls and the Tournament of Roses parade. New Years Day has become all about football here and we were really excited this year because our favorite team (the Buckeyes) were playing in the Rose Bowl. Both of the boys and I had our Rose Bowl shirts on (I really should have gotten a picture!) and Lucy had on her Ohio State collar. The whole family except Tim, who refuses to jump on the Buckeye bandwagon, was ready to cheer on our team. Since the Rose Bowl doesn't come on until the evening here we watched the Capital One Bowl first while I made turkey and we worked on taking down the Christmas decorations. We didn't get all the decorations down until today but we did make good progress at least. I miss the homey feel of Christmas but it is nice to have the house back to normal too. Anyways, last night we watched the Buckeyes win! It was a good game and we had a blast cheering them on. Then last night after we got the kids in bed Tim and I spent some time looking at couches on the internet. We need a new couch but I have been dreading looking at them because we don't always see eye to eye on furniture. Surprisingly we actually found one we liked. It is going to have to wait a couple of months but at least we know what we want.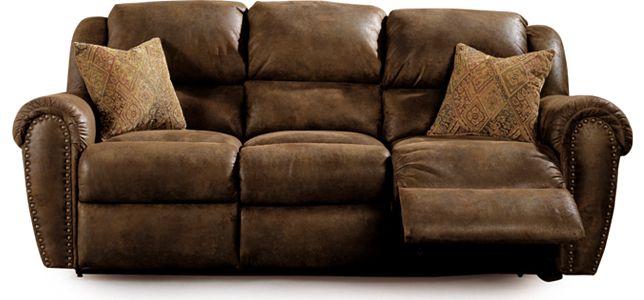 We can't afford a whole new living room set so I am hoping this will fit in. I will show you our living room so you can tell me what you think.

The ottoman in the middle is no longer there nor is the bench behind the couch. I can change the pillows on the chair too. I am a little sick of so much blue so I kind of like the brown. What do you think?

Well, I'm not much for New Years resolutions but I am hoping to get more organized this year, spend more time outside, and (hopefully) learn how to use my new sewing machine (without losing my mind).

I hope everyone has a blessed 2010!